We've got a zero-emission convoy Toyota FCHT
Toyota unveiled its plan today to build a fleet of heavy-duty, zero-emission, hydrogen fuel cell trucks. Started with Toyota FCHT. The move is further evidence that automakers are continuing to place huge bets on the most abundant element in the universe, despite major fueling limitations.
Toyota introduced the fuel cell truck concept Toyota FCHT as part of a feasibility study by the Port of Los Angeles, which figures in to the port's efforts to reduce harmful emissions. If Toyota does go forward with the concept, there's no question this would be the most powerful hydrogen fuel cell vehicle on the market. The automaker says the concept truck would generate more than 670 horsepower and 1,325 pound-feet of torque from two Mirai fuel cell stacks and a 12kWh battery, "a relatively small battery to support class 8 load operations." The concept's gross combined weight capacity is 80,000 pounds, and its estimated driving range is more than 200 miles per fill, under normal trucking operations.
Toyota believes that hydrogen fuel cell technology has tremendous potential to become the powertrain of the future. Said Toyota's North American executive vice president Bob Carter in a statement.


Hydrogen fuel cells — which use compressed hydrogen as their fuel and release only water vapor as an emission — have been in development for decades. But only recently have they attained performance and range numbers good enough to replace an average driver's gasoline-powered car.
That said, hydrogen hasn't taken off as a propulsion technology due to the almost complete lack of a fueling infrastructure. There are several dozen fueling stations in California, and that's about it. Experts predict that commercial vehicles, like trucks and forklifts, could benefit more from hydrogen thanks to access to centralized, industrial fueling stations.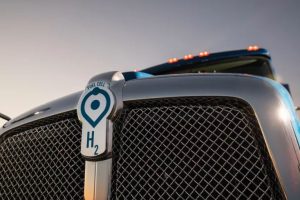 Toyota has more experience with fuel cell vehicles than most automakers. The automaker began selling its hydrogen-powered Mirai sedan in the US in 2015. But recent reports suggest the company has only sold several hundred units. Toyota has said it plans to sell buses powered by hydrogen fuel cells in Tokyo this year, in time for the 2020 Summer Olympics.
And Toyota isn't alone in pursuing zero-emission big rigs. Nikola Motor Company recently unveiled a huge class 8 truck that's powered by hydrogen fuel cells. The Salt Lake City-based startup claims its H2-powered truck will have an operational range of as much as 1,200 miles when it's released in 2020.
Meanwhile, Elon Musk, who has called hydrogen power "incredibly dumb," "extremely silly," "mind-bogglingly stupid," and most succinctly, "bullshit," recently announced that his company, Tesla Motors, will be unveiling its first electric battery-powered semi truck later this year.
And when you consider all research that's going into making trucks drive themselves. It seems safe to say that the trucking industry is about to experience the same technological disruptions that have been roiling the auto world for the last decade.