Use hydrogen as energy storage for buildings and residential houses
Use photovoltaic in connection with electrolyzer and fuel cell may utilize a transition to decentralisation of energy. With solar panels using sunlight generating electricity for onsite consumption and output excess of power to split water into hydrogen and oxygen.
The hydrogen can be used as a fuel either directly in to fuel cell cars, or it can generate electricity in a fuel cell for onsite consumption during nights or winter time.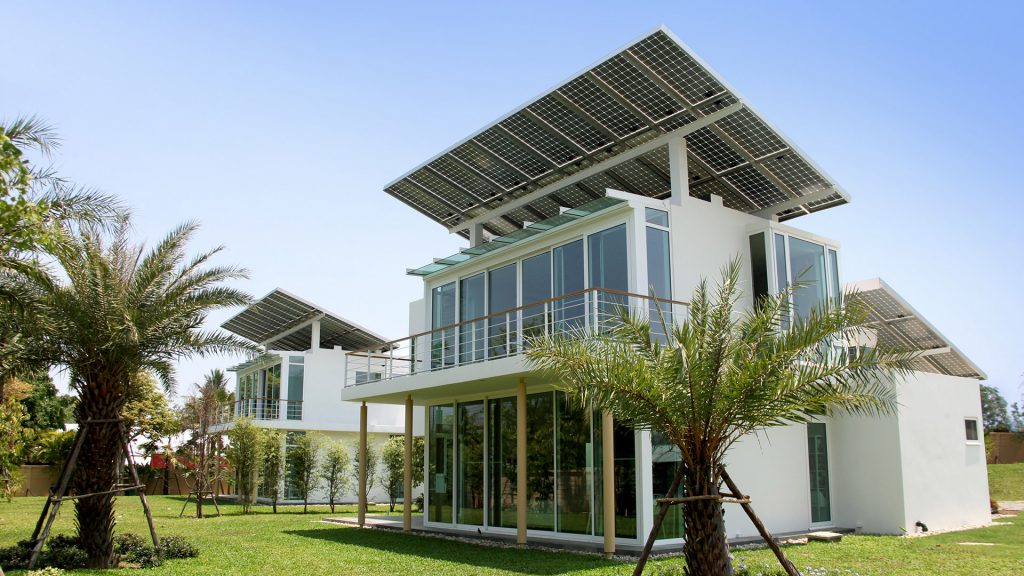 Four family homes as well as support buildings that are completely powered by solar panels and a hydrogen energy storage system.
How fuel cell works
In principle, a fuel cell operates like a battery. However the cell will supply electricity as long as fuel is supplied, for example in the form of hydrogen. A fuel cell consists of two electrodes, one cathode and one anode, separated by an electrolyte. In polymer electrolyte membrane fuel cells (PEMFC), the electrolyte is replaced by a proton-conductive membrane impermeable to hydrogen and oxygen. Hydrogen (H2) and air or oxygen (O2) flow over the electrode and are converted into water (H2O) and heat while generating energy. Hydrogen is routed to the anode where it splits into one proton and electrons (e) on the catalyst layer. The proton (H+) passes through the completely gas-tight membrane. The electrons, in the form of useful electric energy, are routed back to the cathode via a consumer. On the second catalyst layer on the cathode side, the proton reacts with the oxygen from the air to form water, the only by-product.
Fuel cells have a potential to bring a revolution in energy and replace batteries.